Browsing articles in "Web"
A very interesting demo about upcoming CSS tricks that will allow very detailed type animation around shapes. This is pretty cool, it opens up a range of possibilities and creative concepts around sites.
An interesting viewpoint on the birth, use, and apparently "death" of skeuomorphism. Worth a read if you're getting into User Interface design in any shape or form over the next few years. (via Motherboard)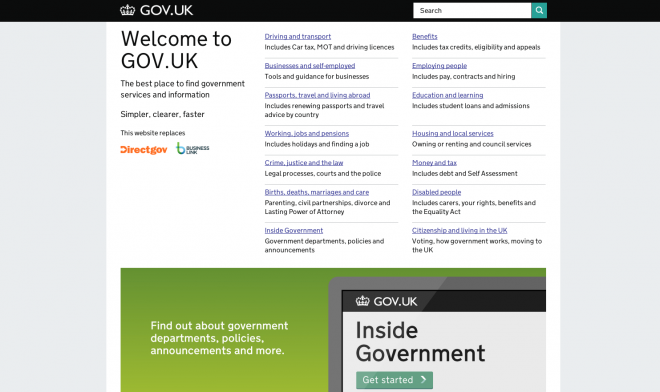 Interesting to find that this site, Gov.UK, is getting so much coverage by sites like Gizmodo and Wired lately. Why?  Well, it was named "2013 Design of the Year" by the London Design Museum not because of any bells and whistles. In fact, it has very little in the way of graphics or flash. What it is does somewhat effectively is present a LOT of information clearly.
I do like it. It's especially relevant to me professionally lately because I've been wading through this incredibly difficult project organizing a college website. My challenge isn't so much the design (which will have to be addressed in time), but it's having to unravel 10+ years of content & organization atrophy. This Gov.UK site will provide some much needed inspiration just at the right time.
If you're trying to find out what type is being used on a website, tools like this WhatFont is super convenient. It can be installed both as a Bookmarklet or as a browser extension. Works like a charm saving you countless minutes trying to look it up in the source code. Great way to just collect ideas and thoughts about what to use in your own projects.
I find there are a LOT of "professionals" parading around claiming to be SEO experts. I know just enough about it to realize I'm NO pro at it. It takes a lot of work and diligent effort to improve search engine ranking for a website. For all those people who think that SEO work only involves paying for Google Ads (you know who you are), here's an infographic that will only give you the rudimentary idea of all that's involved (via SearchEngineLand)
This collection of "Useful Legal Documents for Designers" is awesome. Read it, bookmark it, use it. What has taken me years to figure out on my own through trial, error, reading and research is all done for you right here in this short-form list of docs.
There are some good gems of verbiage in some of these docs I might actually update my own forms with too!  (via Smashing Magazine)
I struggled 3 times to get into my own business in web-development and graphic design. The first time, right out of college, I intended to start my first business and failed miserably. I failed in any attempt to land any meaningful work. Second time I had better results, but not without some hard lessons and I was lucky to be bankrolled under someone else's pocket. Third time was finally a charm, I knew what I was doing, I had more years of experience under my belt, and I learned from observing some of the best.
Here is an article by Jonathan Wold who has some early advice:
 I wrote articles, gave advice, and made it a habit to share what I knew with others. As people read my tutorials, some of them would contact me and ask me to do work for them. I built my first business around the value that I had given away. As you give, conclude with a call to action and invite them to contact you if you can be of service.
(via JonathanWold.com)
A good read about user interface design for both websites and apps. "Effective Presentation of a Website's Navigation"
The way websites are designed is changing rapidly. It's a natural hazard for this type of work unfortunately. I thought to myself recently "I can't keep up with all of these changes". But really….has it ever been different?  Likely not.
I've done webdesign since the days of the dial-up modems where even having a background color that was different from grey was considered the coolest thing. I've seen techniques where it was once cutting edge, became common, and then died out completely (slicing anyone?)
I've had to work around browsers that are constantly footracing to see who can outdo the other. I've seen browsers completely disappear now that I think about it. I've seen monitors get larger and larger demanding that we design interfaces that meet changing viewing habits. I now live in a world where my own retired father, who once used to humor his son's excitement over a dialup connection, is now installing beta web browsers just to see what it looks like.
It's a bit overwhelming when you look back. How did we web-designers ever get by? It would be akin to asking a print designer to print a brochure where the paper size is constantly changing materials and sizes. It would be near impossible to predict any nice design outcome. Yet somehow we do it.
Does the fact that these new retina displays shake up yet another reliable web-standard concern me a bit?  Yeah it does. Anything that brings more uncertainty to an already uncertain design standard makes me jittery. But as always I have to remind myself to take it in stride. It's what we've always done. (via TheNextWeb)
A good list of web design trends to know (and maybe avoid) in your next project?  Personally I haven't completely gotten sick of some of these treatments (I've been in this business long enough to remember when drop-shadows and embossing was considered cool) but certainly if you can think of some concepts that are totally original and new, more power to you.
Stitching
Zig Zag borders
Forked Ribbons
Textures
Letterpress
19th-Century Illustration
Muted Tones
Justified or Centered Typography
Circular Script Logotypes
Skeuomorphic Features
(via Smashing Magazine)
Announcements
Continue building your sites this week (Week 12). Remember to always test your site along the way and constantly validate your code.
Please make appointments to see/talk to me if you need help.