Browsing articles in "Blog"
A very interesting demo about upcoming CSS tricks that will allow very detailed type animation around shapes. This is pretty cool, it opens up a range of possibilities and creative concepts around sites.
It's hard to be interested in graphic design and not have noticed or taken part in discussions about Yahoo's new logo. Personally I've cared very little about Yahoo for a while now and so any news coming from that company only got about a second's worth of attention from me at first. But then the discussions started amongst friends and I couldn't help but be pulled into the process.
First there's explanation of the logo from Marissa Mayer herself:
I love brands, logos, color, design, and, most of all, Adobe Illustrator.  I think it's one of the most incredible software packages ever made.  I'm not a pro, but I know enough to be dangerous
My first reaction was…well, good. I may not have personally liked the final result, but I still love hearing stories about how people came up with their creative ideas. I liked that they describe putting thought into avoiding straight edges, the tilt of the exclamation point…and while I'm not a big fan of the chiseled edge, the idea that it shaped a "Y" was a nice little edge to finish off the story.
But as always, the public audience has strong words to say about this situation:
 My reaction isn't about design; it is about the process she says they went through to create the design, which ignores history, reality, and biology.
There's a lot of good points in his reaction about the Yahoo logo. There's a lot of pride of ownership in the design process…the love of the history, the purity of the creative process, the honing of the craft, etc. I get it.
I just personally can't help feeling the sense of irony hearing similar discussions in my father's generation about the gap between graphic design and fine arts. This reoccuring clash in ideas about what legitimizes creative inspiration or questioning the motives behind whether a design is or isn't….art (?), makes me feel somewhat displaced because I can see both sides of the spectrum.
I've experienced a lot of my own career successes in the web field over the past (almost) two decades. Maybe not Marissa Mayer-level success…but enough to make a comfortable living. Maybe like Mayer, my successes in the early decade hinged more on whether a website worked at all, and not so much on whether it looked particularly well. Back in the "early days" my only decision about font-types was if I liked looking at Ariel or Time Roman more often.
As the years passed by and new tools made traditional graphic design decisions available to me, plus an ever growing appreciation of the craft grew, I've gradually crept up in my craft and understanding of design. Interestingly enough my interest in spending hours behind a monitor staring at blank code dimished equally. In a way I've almost felt like my brain literally turned down the dimmer on the left side of my brain only to exercise the other. (some might say I'm dim on both sides but I digress).  You might say that I've become less the code-monkey, and more the person who just admires design in any form or function.
For that, I think if an engineer like Mayer wants to take a stab at exercising her design mind…more power to her.  Yahoo will fail regardless because it SUCKS!
An interesting viewpoint on the birth, use, and apparently "death" of skeuomorphism. Worth a read if you're getting into User Interface design in any shape or form over the next few years. (via Motherboard)
Did you know there was a shuttle from UHM to KCC essentially? It drops you off at Koko Head and goes to Manoa. There are a number of students who commute between two campuses…
Interesting post today from Gizmodo pointed to the re-designing of Whitney Museum's brand. I wasn't initially sold on the new concept but after discovering the intent was to create a logomark that was "responsive" to different context was an idea that is only just starting to be realized. So the need to adapt websites now extends to the entire brand? I think that's a great way to look at it.
Also mentioned was similar efforts for the MIT Media Lab and the City of Melbourne. Both deserve a look!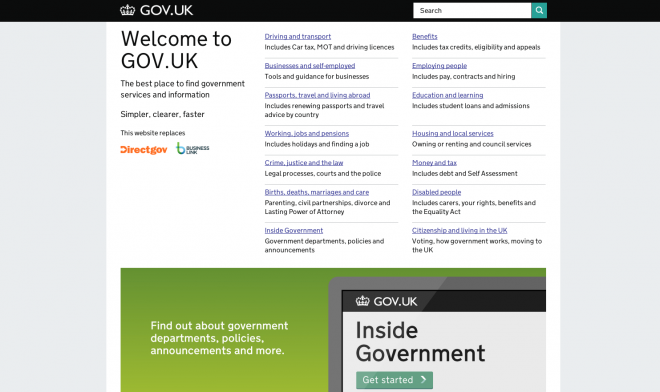 Interesting to find that this site, Gov.UK, is getting so much coverage by sites like Gizmodo and Wired lately. Why?  Well, it was named "2013 Design of the Year" by the London Design Museum not because of any bells and whistles. In fact, it has very little in the way of graphics or flash. What it is does somewhat effectively is present a LOT of information clearly.
I do like it. It's especially relevant to me professionally lately because I've been wading through this incredibly difficult project organizing a college website. My challenge isn't so much the design (which will have to be addressed in time), but it's having to unravel 10+ years of content & organization atrophy. This Gov.UK site will provide some much needed inspiration just at the right time.
Summer 2013 Registration
Go Live Date for Schedule :: March 17, 2013
First Day of Registration :: April 1, 2013
Fall 2013 Registration
Go Live Date for Schedule :: March 24, 2013
First Day of Registration :: April 8, 2013
I think these examples would be great for my future graphic design students. As these tips and examples (by Martín De Pasquale) reveal, the secret to a good photochop is all about lighting. (image: Gizmodo)
Yes, colors matter. What I liked about this little video was a reminder that there ARE no rules in color. It's always evolving!
What kid didn't like pop-up books as a kid?  OK…my child hasn't learned to appreciate them yet, he'd just as soon pull them apart. But I recall I used to be amazed at interactive books as a kid. And as I grew to appreciate design, I can't quite figure out how they seem to work. I'm sure if I spent enough time at it I could figure them out but I'd much rather just assume that there's "magic" involved in the process.
These awesome business card concepts were done by London based artist Elod Beregszaszi (via Toxel)
Blog Categories
Announcements
Continue building your sites this week (Week 12). Remember to always test your site along the way and constantly validate your code.
Please make appointments to see/talk to me if you need help.